Due to the high volume of work at work (haha! duh~) and social obligations.. we haven't had the chance to properly upload anything. But fret not! Here's an early update of recipe sunday to take away your "ono!-weekend-its-gonna-end-soon" or "i-have-nothing-to-do-on-a-weekend" blues~ :D
Today, We're making Beer Battered Onion Rings or technically Stout Battered Onion Rings... Oolala! :3 
------------------
Beer Battered Onion Rings
(makes a WHOLE lot)

Ingredients:
2 cups all purpose flour
1 tsp baking powder
2 tsp cornstarch
1 tsp salt
1 tsp pepper
1 can of beer/stout/ale of your choice 
1 large onion (really depends on the size of your onion)
------------------

Directions:
Take 1/2 cup of flour and reserve for frying. 
Combine remaining flour with baking powder, cornstarch, salt and pepper. At this stage you can actually add any other flavor you'd like... like say, paprika? Its really by preference.
Whisk in your beer of choice (in our case, its Guinness... which smells absolutely HEAVENLY!) until smooth. You should end up with a consistency almost similar to your average pancake batter or thick cream. (Tip: Remember to use only beer that you like to drink normally as the taste and smell wiill affect the overall taste.)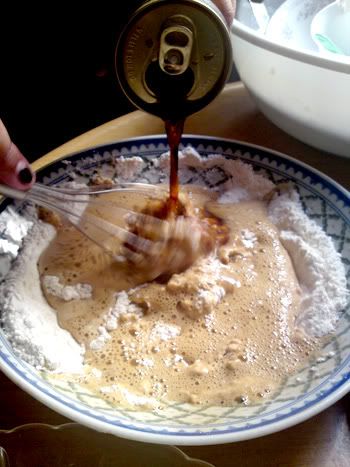 Let sit somewhere warm while you slice the onions into rings. This will give the yeast in the beer time to react.
Heat oil.

Dip the onion into reserved flour (so that the batter will cling to it), into batter then into flour again. Fry for about 2 to 3 mins until golden brown (or deep golden brown in our case as the stout is super dark!). 
This will give you really ugly but huge, fluffy and super CRISPY onion rings! We have tried just dipping into flour and then into the batter as well. This gives us beautiful looking onion rings but its not as crispy and doesn't stay as crispy for a long time. Sooo.. forgo beauty, we say!!! haha!
And there you have it! 

Yummy fluffy deeeeeeelicious beer battered onion rings~! 
We had ours with malt vinegar and mayo and managed to polished off 1 and a half onions worth! Phew!
I hope you guys will try this or even use the beer batter for fish or seafood or whatever you fancy. Have fun and enjoy!!