Hey there fellow spooners, its time for recipe sunday again and today its pancakes! 
I love watching food commercials on youtube for fun (what?! its my hobby! hahaha) and I was watching iHop adverts which made me craveeee pancakes! So we decided to make some! And if you haven't tried making pancakes from scratch, do it! Its so easy and you won't regret it. Also, imagine all the yummy toppings!!! mmm...
onwards to the recipe!
Pancakes
------------
Serves 8 light eaters or 4 BIG eaters (or in our case, 2 HUGE eaters! haha~)
Ingredients :
1 1/4 cups milk or buttermilk (you can substitute milk + 2 1/2 tbsp white vinegar)
1 1/2 cups flour
1 tbsp sugar or more to your taste
3 1/2 tsp baking powder
1 tsp salt
1 egg, beaten lightly
4 tbsp unsalted butter, melted
optional splash of vanilla

Directions :
Mix all the dry ingredients together. 
Make a well in the middle of the mixture and pour in the egg, the melted butter and the milk. Mix well and let sit 10 mins.
Less milk can be used if you prefer a thicker pancake. (Here we have a thinner batter creating pancakes that are a little more like hotcakes from mcDs then iHop so it really is up to your preference.)
Ladle a scoop of the pancake batter onto a hot griddle or pan and don't pick at it! Let it sit and cook until you see bubbles all over the uncooked side of the pancake. Once all the bubbles appear, turn it over and cook the other side until it gets all lovely and brown. 
and serve!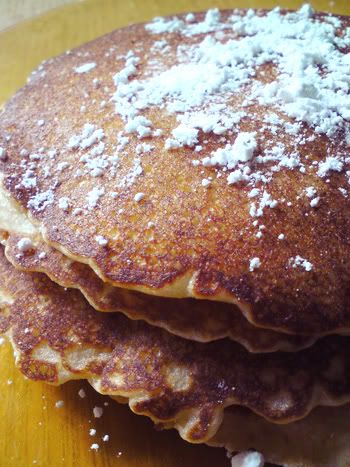 Yummy!
We slathered everything with margarine and honey and basically, we ate a serving meant for 8 between the two of us. :D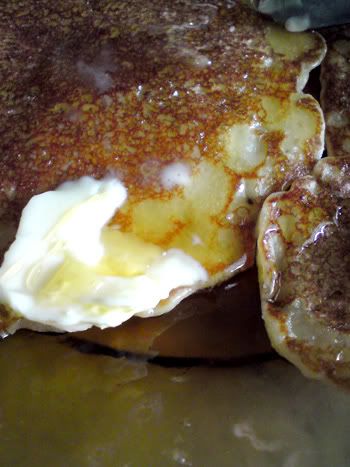 Really hope you try this out! :D