Sunday's almost over but fret not! We've got a lovely recipe for ya because we know food cures everythingggggg. (Including Monday blues... boohoo...)
Ok! So everybody loves pizza. But making a good pizza takes practice. We've tried making pizza dough from scratch before but it turned out to be rather hard to knead and not evenly cooked at all. Experimenting again, we've finally found the perfect one for us. 
Everyone has their own preference as to how thin they like the crust or how springy they like their dough. This is just our humble little version that you might like to try. :)
Pizza Dough
-------------

Makes 2 large or 4 small pizzas
Ingredients :
1 tbsp honey
3 cups plain flour (also add semolina, wholemeal, etc. if desired)
1 cup warm water
1 (about 11gms) sachet yeast
1 tsp salt
2 tbsp grape seed oil (olive oil will do too!)

and of cos whatever toppings you so desire!

Directions :
In a bowl, mix water, yeast and honey. 
Leave for 5 to 10 mins to work or until mixture turns foamy.

Mix flour, salt and oil in a separate bowl.
Make a well in the centre of the flour and pour in the yeast mixture.
Slowly stir in the flour till dough comes together.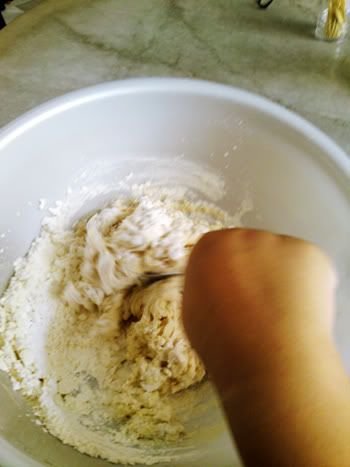 Flour both hands and pat into a ball.
Knead dough until it becomes smooth and springy!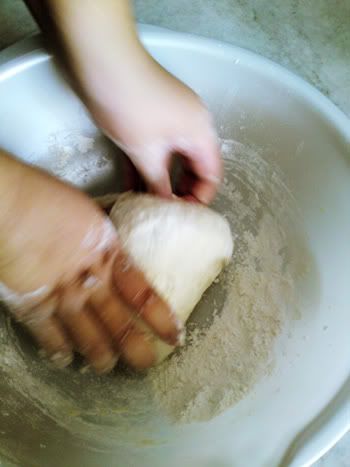 Flour the top and cover with cling wrap and rest approximately 1 hour or until it doubles in size.
Separate into four and roll out on a floured (very imp!) surface. Using a rolling pin helps alot! Or if you dont have one like me.. use a wine bottle filled with water! (so its heavy enough.)
Roll out to your desired thickness.
We really like it thin and it comes out super duper wonderful! It doesn't have to be a perfect circle. Any rustic shape would do. And doesn't it add to the appeal of a handmade pizza? :D
Sprinkle generously with your favourite toppings. In this case, we used ricotta cheese, baby spinach, arugula mix and an onion marmalade. Mmmm. Also a drizzle of grapeseed oil!
Put pizza on an oiled pizza tray and into a preheated oven at 250 degrees celsius. In order for the crust to cook as evenly as the toppings, place it on the lowest rack. 
Bake for 15 to 20 mins or until crust is golden brown.
and VOILA! Yummy pizza! Hope you guys will try it out. yippie! :D
p.s (Layer dough on aluminium foil or parchment paper. Flour in between each layer and wrap the whole thing tightly in cling wrap to freeze for later use.)